Super Buddy Kick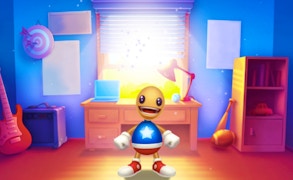 Super Buddy Kick
Step into the world of frenzied fury and cathartic conquests with Super Buddy Kick, a shining beacon in the realm of clicker games. Perfectly crafted for those moments where you need to blow off some seemingly unmanageable steam, this game gets your adrenaline pumping and your heart racing.
From the moment you pick up your weapon of choice, be it a blade, a pistol or even an explosive grenade, you are faced with an action-packed journey of intense tapping. Let's face it - who doesn't love an idle game that puts the power right at their fingertips? And that's just what Super Buddy Kick does. It's not every day that you find yourself between a hammer and an anvil, shaping the destiny of your very own hero.
This is more than just another game on your screen; it's an opportunity to create, mould and become part of a narrative. You are thrown into a whirlwind adventure where every kick counts and every action has consequences. If you've been on the hunt for tap games that not only keep you engaged but also keep your nerves on edge, then look no further.
In Super Buddy Kick, strategy reigns supreme as you learn to balance between brute force and tactical play. Here is an idle game that offers both: mindless fun when you need to blow off steam, engaging gameplay when you're up for a challenge, delivering the final kick has never been this exciting or satisfying!
This is not just another idle game; it's a non-stop thrilling experience masterfully combined with addictive tap gameplay. So gather your tools of destruction and get ready to deliver that FINAL KICK in Super Buddy Kick!
What are the best online games?