Super Boom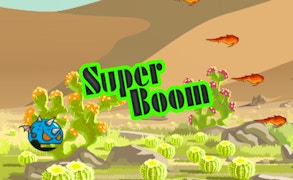 Super Boom
Description
Enter a thrilling world filled with fantastical creatures in Super Boom. This exciting arcade game invites players to bring chaos upon sky-roaming dragons and ground-dwelling demons. The object of the game entails ensuring that you successfully overcome these ghastly creatures through precision and quick decision-making. The altitude gets higher, the stakes get larger, and the game increasingly exhilarating as you progress.
How to Play
In Super Boom, gameplay controls are easy and intuitive. Use the spacebar or click the left mouse button to launch projectiles at dragons and other flying monsters. For grounded opponents like demons, use your arrow keys for jumping over them. Your progress is marked by the successful elimination of monsters, each victory propelling you further into your high-flying adventure.
Tips and Tricks
Remember, timing is crucial in Super Boom. Launch your attacks on dragons as soon as they come within range but avoid being too hasty to keep from wasting shots. When facing demons, aim for a high jump rather than direct confrontation. Keep an eye on your ammo and health levels constantly to ensure you're ready for any oncoming threats.
Features
Epic battles against a variety of dragons and monsters.
Different types of enemies require different combat strategies.
Simplistic controls make the game easily accessible for all ages.
A unique combination of jumping mechanics with shooting aspects adds a fun twist.
What are the best online games?