Dynamons World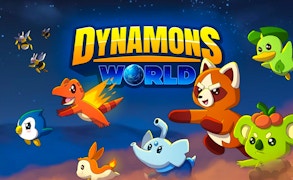 Dynamons World
Immerse yourself in a world teeming with vibrant energy, fierce competition and mythical creatures in the breathtaking Action RPG, Dynamons World. This game takes the battle games genre to unmatched heights, offering a riveting blend of strategy, action and role-play elements.
As an exhilarating entrant into the realm of monster games, Dynamons World challenges you to capture and train a diverse array of Dynamons. Each creature possesses its unique capabilities and skills, compelling you to strategize meticulously to build an invincible team.
The quest unravels across a beautifully crafted World map. You'll confront formidable foes at every turn, putting your battle prowess to the ultimate test. With every victory, your Dynamons grow stronger, encouraging you to plunge deeper into this enthralling universe.
The true success of any RPG lies in its ability to sustain player engagement, and this game achieves this with aplomb. The artistry behind each Dynamon design is commendable; it fuels curiosity and beckons you on an endless journey of exploration.
The battle mechanics are fluid and intuitive. Whether you're a seasoned gamer or new to the world of battle games, you will appreciate the satisfying combat that's easy to pick up yet difficult to master. The amalgamation of RPG elements within each battle adds depth and unpredictability.
In conclusion, Dynamons World pushes the boundaries of conventional monster games with its splendid design, complex gameplay dynamics, captivating storyline, and rich world-building. It's one part Pokemon-esque adventure game and one part thrilling action-RPG - a fusion that's as exciting as it sounds! This game is a must-try for adventure-seeking gamers who love their battles fierce but fair!
What are the best online games?