Dynamons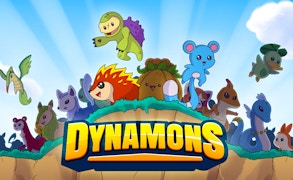 Dynamons
Welcome to the vast, enthralling world of Dynamons, a fantastic blend of battle and monster games that will satiate your immense appetite for RPG gaming. In Dynamons, you are bestowed with the control and responsibility of honing your own squad of Dynamons, peculiar monsters that accompany you in thrilling battles.
Dynamons expertly envelops its players in an immersive narrative, giving a hearty nod to the classic turn-based RPG mechanics seen in those beloved monster games from our past. However, it refreshes this familiar setup with slick modern execution and a web of intricacies to discover and master.
The battle system in Dynamons is a notable blend of strategic depth and accessibility. True to RPG form, it's not a mere slugfest - instead, it encourages strategic thinking, forcing players to carefully consider their moves in each unique encounter. Each Dynamon you train possesses its own set of skills and abilities - thus dictating your strategy against the multitude of foes you'll face.
Particularly striking is the intense player satisfaction derived from training your Dynamons. As they morph from fledgling creatures into powerful champions through consistent training and battles, the bond between you and your digital companions strengthens - a rewarding experience that nostalgically calls back to the heydays of monster games.
Visually, Dynamons is eye-catching with vibrant animations adding an exciting layer to the heated battles. The user interface is intuitive and beginner-friendly, which makes diving into this highly addictive RPG an absolute breeze.
To wrap up this review, Dynamons succeeds in recreating that compelling sense of progression synonymous with great RPGs while simultaneously providing a unique spin on battle and monster games. Whether you're an RPG veteran or just testing the waters with this genre, Dynamons promises hours of exciting gameplay with its blend of strategic battles and interesting character development.
What are the best online games?