Dynamons 6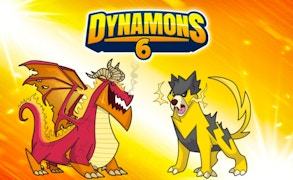 Dynamons 6
Welcome to the thrilling world of Dynamons 6, an intriguing blend of action and role-playing-games that seamlessly combines monster collecting and strategic battling. We're diving into a universe teeming with exotic creatures, nail-biting battles, and expansive landscapes to explore.
Immerse yourselves in the richly textured environments including Klaude's Castle, where danger lurks in every corner, the glittering depths of the Treasure Cave, bustling landscape of Gold City, and the ominous depths of the Challenge Cave. As an action-packed addition to our favorite, ever-expanding category, battle-games and monster-games, Dynamons 6 offers a unique versatility that will captivate both novice gamers and seasoned veterans.
In your journey towards becoming the ultimate Dynamon Captain, our trusty guide Jovani imparts invaluable battle strategies and insights about each unique Dynamon. Creatures like Una, Gryphonix, Surfant, Dynabug are no longer mere digital entities but become part of your elite squadron. The thrill is palpable as you recruit these special Dynamons for your team and strategize to outwit your opponents in riveting 1v1 battles.
The game cleverly integrates elements of strategy with special attacks and power-ups making each battle uniquely challenging. The graphics are slick, characters well-designed and engaging gameplay ensure that Dynamons 6 raises the bar for future action RPGs.
To conclude, Dynamons 6 offers an irresistible mix of adventure, strategy and tantalizing battles which are sure to keep you hooked. So strap in for this exhilarating journey through a fantastical world filled with unique monsters and gripping battles. It's time to ignite your gaming passion with Dynamons 6!
What are the best online games?