Subway Clash 2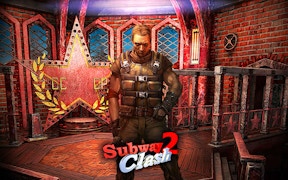 Subway Clash 2
Step into the gritty underworld of Moscow city and get ready to lock and load with Subway Clash 2, a riveting addition to the exhilarating world of shooting games. This game is not just another name in the list of battle games, it's an immersive experience that merges the thrill of sniper games, the survivalist instincts of survival games, and the strategic elements of battle royale games.
The narrative thrusts you into a grim reality where a fanatic group named "Witnesses of the Illyich" plans a radiation attack on Moscow. As the GRU Special Forces Commander, you're tasked with an imposing mission to vanquish this threat. This powerful storyline makes it not just one of the top-ranking war games, but positions it as part of popular games like Fortnite.
Subway Clash 2 gives you more than just mindless shooting, it necessitates strategy. The old depot, now a deadly labyrinth, replete with hidden nooks and unexpected passages, requires more than just your trigger finger to navigate. Every corner unfolds a new challenge, each passage is a test of your survival skills in this unforgettable rollercoaster ride amongst all other gun games.
The tension escalates as you lead your team forward through this deadly maze. Picking up new weapons along the way adds another layer of strategy and excitement. From covert sniper positions to full-blown frontal assaults, Subway Clash 2 embraces every aspect of hardcore shooting gameplay making it an undeniable standout in the world of battle royale and war-centric gaming.
In conclusion, if you are looking for an adrenaline-fueled shooter game that tests both your tactical acumen and raw firepower, then Subway Clash 2 is definitely worth stepping into. It brings together stellar elements from various gaming genres for an intense firefight that's sure to keep even veteran gamers on their toes.
What are the best online games?