Stickman Warfield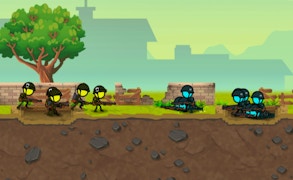 Stickman Warfield
Enter into the thrilling world of Stickman Warfield, a new addition to the gripping genre of shooting games, where war is not just about claiming victory but seizing the enemy's flag in a heart-stopping battle of clans. This adrenaline-pumping game, available entirely for free on kiz10.com, blends elements of stickman games and war games to create an unforgettable action-packed adventure.
In Stickman Warfield, the lines between victory and defeat blur as your command over the game's gunplay determines your survival against relentless foes. From catastrophic artillery to deadly sniper rifles, this game creates an all-out war scenario laden with explosive gameplay and non-stop action from start to finish.
The battlefield itself is a fierce competitor with strategic cover options and punishing open areas that will put even the most experienced gamers to the test. The art style typical to stickman games ensures fast-paced action, making every move count in this unforgiving warzone.
The core mechanic behind Stickman Warfield is its warfare strategy. Plot your course wisely, select your weapons judiciously, understand your enemy's tactic, then unleash chaos onto them. The thrill of seizing enemy flags and declaring victory over your opponent's territory never gets old.
In conclusion, if you're on the hunt for gun games that plunge you headfirst into exhilarating combat scenarios or if you can't resist diving into a good war game's strategic elements, then Stickman Warfield should be next on your gaming list. It captures everything we love about this genre – the tactical depth of war games, the fluid action of gun games, and the straightforward appeal of stickman games. Get ready to lose yourself in this action war game that promises lots of shots and even more fun!
What are the best online games?