Stickman That One Level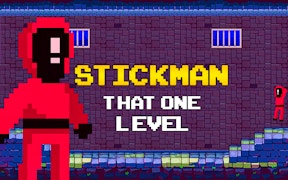 Stickman That One Level
Have you ever had the feeling of being stuck at one level in a game, repeatedly trying to make that perfect escape move? That's the essence of Stickman That One Level, a riveting adventure game that will test your nerves and patience.
If you're a fan of stickman games, this title should be on your must-play list! The concept is simple - your stickman is trapped in a room, and you must use your wits to help him escape. The room consists of nothing but spikes, platforms, sticks, a golden key, and an exit door. But don't be fooled by its simplicity; the game is anything but easy. It's an intricate blend of classic escape games and challenging skill games.
Moving forward isn't as simple as it seems - every move requires careful thought and strategy. One wrong maneuver could be deadly for our stickman protagonist! Fans of survival games will appreciate the level of intense gameplay involved in Stickman That One Level.
This game is developed by Noob vs Pro team, who are renowned for their knack to create logic puzzles that are both maddeningly frustrating and incredibly addictive. Their tag line "From jailbreak to jailbreak I live!" perfectly encapsulates Stickman's endless quest for freedom.
Overall, Stickman That One Level not only demands your attention but also requires your utmost dedication to help our little hero break out of his prison confines time and again. It's a thrilling gaming experience that keeps you on edge from start till end.
In short, Strap yourself in for an electrifying ride with Stickman That One Level – a game that promises countless hours of exhilarating gameplay.
If you're up for a challenge that will truly test your gaming skills while providing endless entertainment, then Stickman That One Level is just the game you've been waiting for!
What are the best online games?