Turbo Dismounting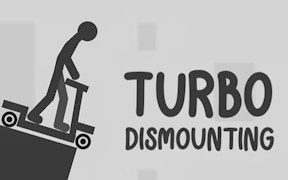 Turbo Dismounting
Game Description
Immerse yourself in the world of Turbo Dismounting, an adrenaline-pumping game where your main task is to orchestrate and survive the most jaw-dropping crashes. Push the stickman figure to the edge and beyond, and experience the satisfying crunch of chaos as you propel your character into an array of hazards in this physics-based spectacle.
Gameplay Instructions
Getting Started
Kick-off your game by utilizing your initial funds to unlock a variety of intriguing levels. Once in, a push-start button fuels your adventurous journey. Power your release with a long-press on the button, subsequently launching the stickman onto a landscape fraught with unpredictable obstacles and dizzying declines. The button's surrounding green aura signifies the strength of your initial propulsion.
Scoring and Progression
As the aftermath of your controlled chaos ensues, your stickman's landing score and a monetary reward await. These newly earned assets open avenues to a greater variety of intricate levels and a diverse range of vehicles, adding layers of complexity and fun to the gameplay. Each vehicle adds a distinct flavor to the crash sequences, impacting the way your character dismounts.
Replay and Entertainment
For a touch of self-amusement, take a moment to replay your most glorious (or disastrous) dismounts. Watch your past performances from a new perspective and relish in the chaotic artistry of your gameplay. Turbo Dismounting blends simple controls with exciting, havoc-filled levels, providing an entertainingly explosive gaming experience.
Desktop Controls
Playing Turbo Dismounting on desktop devices leverages intuitive keyboard controls. Navigate through the gameplay and control your character with the following keys:
Character Positioning
Up, Right keys: Move to the next position
Down, Left keys: Move to the previous position
Game View
Plus key (+): Zoom in to get a closer look at the action
Game Start
Space, Enter keys: Start the game and launch your stickman into chaos
What are the best online games?