Red Stickman: Fighting Stick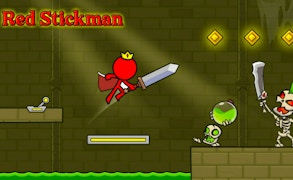 Red Stickman: Fighting Stick
Unfurling an expansive realm of roguish charm and captivating combat, Red Stickman: Fighting Stick catapults us into an exhilarating world of captivating stickman games. The sequel to the much loved 'Red and Blue Stickman Animation', this adventure game plunges us into a matrix of battle games, challenging us to outperform ourselves at every turn.
Brace yourself for a roller-coaster ride through this enthralling platform puzzle game, where control is your key weapon. Dual wield characters, navigating them seamlessly through the dingy depths and lofty heights of the menacing Forest Temple. This game is not just about escape, it's about survival. It's not just about avoiding traps, it's about setting your own.
In a masterstroke of innovation, Red Stickman blends elements of escape games with the fast-paced clout of battle arenas. Pushing boxes, activating buttons and manipulating platforms while collecting diamonds requires strategy, agility and a touch of madness. Each diamond collected and each door exited feels like a hard-fought victory in this addictive blend of puzzle and combat.
The collision between addictive gameplay and meticulously crafted puzzles makes Red Stickman one of the most engaging Addictive Games to date. With each completed level, one gets a sense of accomplishment akin to clearing a real-world obstacle course.
In summary, Red Stickman: Fighting Stick is not just another game; it's an electrifying escapade that thrusts you headfirst into a world filled with danger and excitement. Whether you are a lover of stickman games or battle arenas or addictive puzzles with rewarding escapes - prepare yourself for an immersive experience that defies expectation.
What are the best online games?