Stickman Army: Team Battle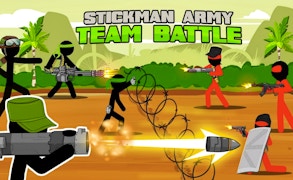 Stickman Army: Team Battle
Immerse yourself in the world of war games where the stakes are high, and the battles are epic. Get ready to dive headfirst into Stickman Army: Team Battle, a game that perfectly synchronizes elements of stickman games, battle games, and gun games into an electrifying action-packed adventure.
In the trench warfare of action-packed stickman gaming, this creation stands at the forefront with its cleverly crafted strategy elements and engaging gameplay dynamics. It isn't just another addition to the list of generic war games, but a testament to the thrilling potential that such survival games can achieve.
Stickman Army: Team Battle wonderfully captures the essence of survival games where every decision you make holds significant weight over your fate. As a leader, every strategic move you orchestrate either takes you closer to victory or plunges your team into chaos. Your battalion consists of differently skilled stickman warriors, each armed with distinct weapons and abilities. From attack patterns to special defense tricks, you've got an arsenal of strategies at your disposal to overpower your enemy.
The real magic lies in not just surviving this battlefield but mastering it. Each round of gunfire from this representative of gun games intensifies the excitement and boosts your adrenaline levels as you venture deeper into this captivating war zone.
In conclusion, Stickman Army: Team Battle is not your average run-of-the-mill game. It's a fresh perspective on war games that blends strategy elements from battle games with the intense action scenes typical of gun and stickman games. It offers an exciting journey that will get your heart racing and mind engaged as you maneuver through gripping battles for survival.
What are the best online games?