Stickman Sniper 3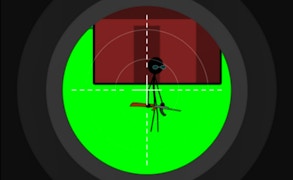 Stickman Sniper 3
Step into the action-packed world of Stickman Sniper 3, a thrilling addition to the canon of gun games and stickman games. Crafted with both strategy enthusiasts and shooting game fans in mind, this unique installment will test your knack for puzzle-solving just as much as your precise shooting skills.
Upon launching into this adrenaline-fueled adventure, you'll be provided with a detailed mission brief. Pay careful attention, for it gives necessary insights you'd need to eliminate all your targets and successfully complete each level. As you immerse yourself in this exhilarating fusion of puzzle and shooting elements, you'll realize that every move must be calculated, every shot must be accurate, and every decision can mean the difference between victory or defeat.
The charm of Stickman Sniper 3, lies in its well thought out level designs that require not only marksmanship but also intellectual cunning. From the very onset, it demands more than regular sniper games. It necessitates strategic planning combined with swift execution to navigate through the riveting missions thrown at you.
The stickman universe provides an intriguing backdrop to this sniper game. The simplistic yet expressive graphics add another layer to the gameplay making each encounter with your enemies feel personal. Stickman Sniper 3 is undeniably a thrilling ride for those who relish in challenging gameplay that does not just rely on brute force but also intellectual mastery.
In conclusion, whether you're a seasoned veteran in gun games or someone dipping their toes into sniper games, Stickman Sniper 3 offers an unforgettable gaming experience that keeps you on the edge while satisfying your craving for strategic planning combined with skillful shooting. It's time to take aim and unleash your inner sharpshooter - are you up for the challenge?
What are the best online games?