Stickman Shooter 2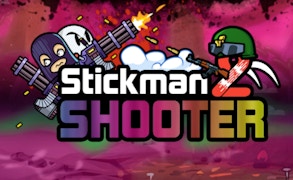 Stickman Shooter 2
Immerse yourself in the thrilling universe of Stickman Shooter 2, an exceptional addition to the action-packed genre of shooting games. With a rich blend of strategic gameplay, high-octane gun action, and immersive battle scenarios, Stickman Shooter 2 elevates the traditional formula of stickman games.
In this riveting sequel, you're thrust into a barren world vastly different from its predecessor. The once lush green landscape now lies withered, consumed by an unrelenting blaze - a stark testament to the relentless warfare that has taken hold. Your mission? Defend your base from an onslaught of alien and soldier enemies hell-bent on its destruction.
Your adversaries are formidable - each one a relentless force aimed to reduce your fort to rubble. But, equipped with your trusty arsenal and a keen strategic mind, you're prepared for this intense battle game. Every downed enemy translates into valuable coins that fuel the improvement and upgrading of your weaponry - making every successful defense an exhilarating victory.
Stickman Shooter 2 is more than just another stickman game; it's a testament to survival in the face of overwhelming odds. Its gritty atmosphere and tough-as-nails gameplay take gun games to new heights. The compelling need to defend, paired with an easy-to-understand but hard-to-master strategic element, creates a riveting experience sure to captivate any gamer.
In conclusion, whether you're a seasoned veteran in shooting games or just looking for an electrifying way to pass the time, Stickman Shooter 2 offers an engaging and rewarding experience. So why wait? It's time to pick up your virtual gun, brace yourself for battle and prove your mettle in this enthralling standoff against destructive forces. Because in this game, it's not just about surviving; it's about thriving amidst chaos.
What are the best online games?