Stickman Prison Counter Assault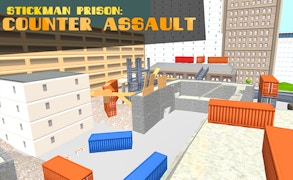 Stickman Prison Counter Assault
Description
In Stickman Prison Counter Assault, you are a stickman trying to survive and escape from a high-security prison. This gritty game tests your survival skills as you battle fellow prisoners and armed guards. The game features stealth gameplay and intense gunfights, with the sole objective of escaping the prison alive. Every level brings unique challenges that require quick thinking and fast reflexes.
How to Play
To play, use your keyboard for movement and your mouse for aiming and shooting. To hide from guards or fellow inmates, utilize cover scattered around the prison. Your progress is marked by each successful mission completion, leading you closer to freedom with each step.
Tips and Tricks
Always stay on the move. Standing still makes you an easy target. Use available covers wisely as it helps in evading enemies. Remember to conserve ammunition, as running out of bullets in crucial times can be fatal.
Features
Challenging levels: Each level offers unique challenges that test your survival skills.
Action-packed gameplay: Engage in intense gunfights while trying to escape the prison.
Stealth elements: Use of stealth mechanism for strategic gameplay.
Detailed graphics: Despite being a stickman game, Stickman Prison Counter Assault offers beautifully detailed graphics.
What are the best online games?