Stickman Parkour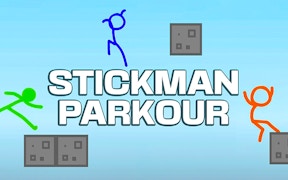 Stickman Parkour
Unleash the nimble acrobat in you with the exhilarating title, Stickman Parkour, the latest addition to the world of stickman games that will satiate your appetite for high-voltage action and skillful maneuvering. Dive into an engaging gameplay where every moment pulsates with adrenaline-pumping parkour stunts performed by your stickman avatar.
The greatness of this game pulls you into a dynamic arena where running games meet breathtaking parkour moves. Stickman Parkour is more than a game; it's a thrilling journey that stretches your gaming prowess and tests your quick reflexes at every tricky jump and challenging flip.
Within this addictive romp, you can unlock various stickmen, each possessing their unique animation style. Their fluid motions and fascinating animations captivate your senses, making you feel like part of an animated parkour spectacle.
This game is a perfect blend of brisk pace and momentous jumps that require precision timing, adding to its uniqueness in the expansive universe of Skill Games. As you dive deeper into Stickman Parkour's mesmerizing world, you realize it's not just about running the fastest – it's about mastering those cool tricks while maintaining sleek execution.
Earn bragging rights by completing more levels than all your friends combined, transforming this engaging challenge into an exhilarating race for supremacy. Soak in the thrill as your stickman flips, leaps and defies gravity while navigating through massive platforms.
The bottom line? If high-octane action, compelling animation, or exciting stickman games get your gaming spirits high then Stickman Parkour merits a spot on your must-play list. A perfect blend of heart-stopping action and mind-bending strategies await all those daring to take up this challenge!
What are the best online games?