Stickman Gun Battle Simulator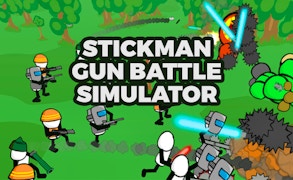 Stickman Gun Battle Simulator
Description
In Stickman Gun Battle Simulator, you have to lead a fearless stickman army into war! This battle simulator requires you to strategize and fight off the enemy forces using an arsenal of deadly weapons. The fate of the stickman world lies in your hands. Unleash your troops into chaotic battles, where they will show their prowess in shooting and fighting to obliterate the enemy.
How To Play
Your mission as a commander is to strategize your moves and lead your stickman army into battle. Choose from an array of melee weapons, pistols, machine guns, and sci-fi guns to tear down your enemies. Direct your troops towards the enemy and watch them engage in intense combat. Control progress by upgrading your army's firepower.
Tips and Tricks
The key to victory lies in strategically deploying your troops based on their strengths. Use melee fighters for close combat while keeping gun-wielding stickmen at a distance for increased damage. Be proactive with upgrades to keep up with progressively harder levels.
Features
Addictive gameplay: Strategic planning mixed with intense battle sequences.
Variety of Weapons: Equip your troops with melee weapons, guns, and futuristic weapons.
Blood-filled Battles: Witness epic clashes filled with action-packed sequences.
Fully Free: Enjoy this thrilling stickman battle simulator entirely free!
What are the best online games?