Stickman Dash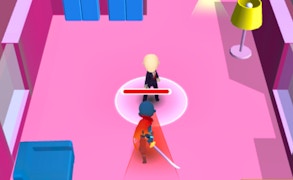 Stickman Dash
Stickman Dash delivers an intoxicating mix of sword games, battle games, stickman games, and ninja games into one relentless action-packed adventure. This dynamic game thrusts players into the thrilling life of an audacious ninja tasked with dismantling a den of criminals.
In the foreboding underworld of Stickman Dash, you are not merely a ghostly shadow tracing the fringes of darkness. You are a silent storm, a blade-wielding liberator sent to shatter the iron grip of villainy. The game is a gripping experience as there's always danger lurking around each turn, with enemies eager to stop your noble mission.
The euphoria that surges through you as the sharp edge of your sword cleaves through the air, slicing malevolent adversaries is astounding. Moreover, the ability to upgrade your lethal weapon adds a tantalizing layer to gameplay dynamics in this addictive blend of sword games and ninja games.
The clever implementation of wall-bounce mechanics opens up new avenues for evasion and attack. As you dance on these violent stages with balletic grace and deadly precision, the very walls become willing partners in your deadly dance. This unique twist blends elements from battle games and stickman games, adding depth to the engaging combat system.
In conclusion, Stickman Dash, with its irresistible cocktail of stealth, strategy and slicing action will draw players into its chaotic world and refuse to let go. Those who seek a perfect hybrid between sword games, battle games, stickman games,, and ninja games, shall find 'Stickman Dash', nothing short of an electrifying revelation. Expect adrenaline-filled thrills; exhilarating challenges; this is one dash you won't want to miss.
What are the best online games?