Stickman Broken Bones io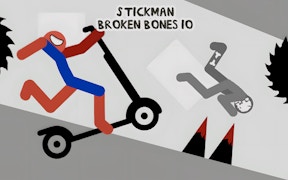 Stickman Broken Bones io
Welcome to the adrenaline-filled world of Stickman Broken Bones io, a game that merges the exciting elements of stickman-games and running-games. Embark on an exhilarating journey as a Stickman, running and jumping through various heart-stopping traps. The excitement doesn't end there, however! The unique aspect of this game is the more damage you inflict upon yourself, the more points you pile up, unlocking fresh levels filled with even more intense challenges.
The game's key strength lies in its distinctive ragdoll physics, an invaluable trait that elevates it above its peers in the genre. This offers an unprecedented level of realism when it comes to falls and injuries, making each tumble or bone-crushing impact feel incredibly lifelike. Combined with a detailed limb injury system, each wrong step can result in spectacularly gruesome injuries that will keep you on your toes at all times.
This action-packed game also features a leaderboard system, allowing you to compete against friends and rivals worldwide. Topping these leaderboards doesn't come easy though; it necessitates careful use of the in-game shop to upgrade your stickman character and his transport for more spectacular and interesting accidents.
In addition to character upgrades, Stickman Broken Bones io also comes complete with a transport store which allows you to purchase a variety of vehicles, ensuring each new round offers differing experiences. This constant change adds a level of unpredictability and thrill that continues to captivate gamers around the globe.
To sum it up, Stickman Broken Bones io is not just another run-of-the-mill action game but rather an innovative amalgamation of ragdoll thrills and competitive excitement within the realm of stickman gaming.
What are the best online games?