Stickman Archer 4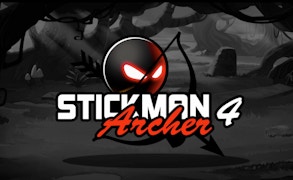 Stickman Archer 4
Enter the thrilling realm of Stickman Archer 4, a game that flawlessly intertwines the engaging gameplay of stickman games with precision-driven elements of archery games. In this action-packed adventure, your objective is simple yet surprisingly intricate - vanquish your enemies with your trusty bow before they get a chance to retaliate.
Your aim needs to be precise, as each shot holds the capacity to decimate the body parts of your opponents. Imagine sending a volley of arrows that dismember your enemies, their heads and limbs scattering in an explosive display of your marksmanship. It's a visceral experience that's gritty and satisfying at the same time.
But Stickman Archer 4 doesn't only rely on bow and arrow mechanics; in MRgun mode, the player can rain hell upon their foes using modern firearms like pistols and machine guns. See bodies fly in all directions and heads explode in this one-stickman arsenal!
The chance to earn diamonds further enriches gameplay, providing opportunities to upgrade your weaponry making each level successively more intense and rewarding than the previous one.
In Stickman Archer 4, each level intensifies exponentially as you progress through the game. The graphics are crisp, clean and carry an attractive aesthetic that will keep you visually engaged while not compromising on performance.
A staple in stickman games and archery games alike, Stickman Archer 4 is a fantastic addition to any action game lover's collection. With its perfect blend of adrenaline-fueled combat and strategic maneuvering, it guarantees hours of unadulterated pleasure for both casual gamers and hardcore action enthusiasts alike.
What are the best online games?