Stick Archers Battle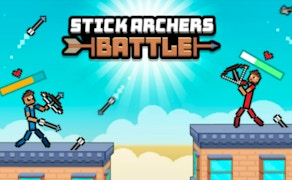 Stick Archers Battle
Immerse yourself in the thrilling world of Stick Archers Battle, a captivating cocktail of battle games and stickman games. An exhilarating blend of strategy and reflex, this action-packed game serves up an addictive challenge where only the very best will triumph.
In Stick Archers Battle, players are transported into a fast-paced archery competition. The unique premise takes the familiar mechanics of archery games and injects a fresh twist; it's not just about launching arrows - but doing so at the perfect angle and with the right power. A zoomed-out perspective allows you to gauge distance, calculate the trajectory, and catch your opponent off-guard with an accurate shot.
The game also nails it in terms of gameplay modes. It gives players ample options where they can engage in a one-on-one combat in "1 Player", play with friends in "2 Player", or go for all-out destruction in "Death-match" mode. With such versatility, Stick Archers Battle caters to all gaming preferences.
Stick Archers Battle employs adaptive environments which change from game-to-game providing players a unique challenge every time they take aim. Unlike traditional 2 player games, it's not just about beating your opponent but also mastering changing terrains and physics - morphing basic battle into high-stakes strategy!
The first player to hit the mark five times takes home victory. Your skill, wit, and steady hand will determine whether you're triumphant or tasting defeat. Subtle variations in each round keep gamers intrigued, making Stick Archers Battle a monstrously addictive must-play stickman showdown.
In conclusion, Stick Archers Battle seamlessly combines elements from battle games, stickman games, archery games and 2 player games to deliver an enthralling gaming experience that will have you on edge from start to finish.
What are the best online games?