Squid Jump Challenge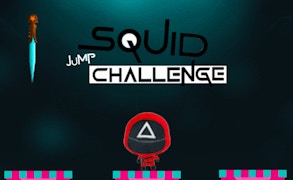 Squid Jump Challenge
Description
Leap into the exhilarating world of Squid Jump Challenge, where your reflexes and precision are your best allies. In this riveting, action-packed game, you will be tasked to traverse through numerous levels and platforms using your Squid Jump skills. Your objective is simple - jump higher and farther to achieve the highest score. Each jump challenges your agility and reflexes in this adrenaline pumping game.
How to Play
To play Squid Jump Challenge, simply tap or click on the screen to make your character jump. The longer you hold the click or tap, the higher the squid jumps. Timing is crucial as a misstep can lead to elimination. Make sure that your squid lands safely on the platform after each jump to progress in each level.
Tips and Tricks
Keep an eye out for power-ups that might boost your jumping abilities or grant you invulnerability for a short time. Be mindful of the timing, as jumps need to be calculated accurately for successful landings. Remember, practice makes perfect in Squid Jump Challenge!
Features
Varying Difficulty Levels: The game offers different levels of difficulty to suit every player's skills set.
Power-ups: Watch out for exciting power-ups that enhance game play.
Infinite Gameplay: With unlimited degrees and countless gameplay opportunities, Squid Jump Challenge guarantees endless fun!
Reward System: Earn points and climb up the leaderboard with every successful jump!
What are the best online games?