Squid Gun Fest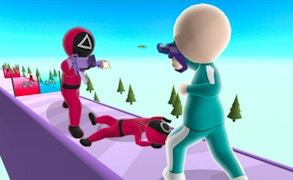 Squid Gun Fest
Immerse yourself in the explosive world of Squid Gun Fest, an electrifying fusion of running games, gun games, number games, and battle games. As a part of our commitment to bring you the most engaging Skill Games on the market, we've dissected every element of this riveting gaming experience.
The unique marriage of Squid Game themes with fast-paced shooting action will ignite your competitive fires, as you skillfully navigate through this adrenaline-fueled battleground. The premise is captivating: increase your arsenal by performing mathematical operations and engage in relentless warfare against Squid Game's formidable employees.
You are not just running; you are battling. And it isn't just a gun game; it's a game of numbers and strategy too. With each obstacle that comes your way, this captivating combat narrative compels you to strategize, calculate and shoot your way out with lethal precision.
Beware of the notorious killer doll whose sporadic appearances enhance the suspense factor. Your survival hinges on strengthening your weapon count to pulverize this fearsome foe. The meta is not merely about firepower but also about brains and quick thinking.
The end-line is not your only goal; it's the anticipation of looting that robber car that propels you forward—an enthralling nod to classic looter-shooter mechanics. This monetary windfall can be used to purchase superior firearms from among six distinct deadly weapons—adding another layer to this exhilarating shooter experience.
With unlimited levels at your disposal, Squid Gun Fest promises an endless running game experience draped in uncontainable excitement. Starting the game triggers an unending escapade that nudges you to hone both your shooting skills and number skills, making for a uniquely stimulating gaming journey.
In summary, Squid Gun Fest offers something for every gamer: heart-stopping gun battles for action lovers, challenging math puzzles for strategy fans, and high-stakes sprinting sequences for running enthusiasts – plunging you into one grand immersive adventure! Enjoy!
What are the best online games?