Squid Challenge Escape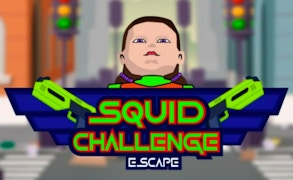 Squid Challenge Escape
Calling out to all thrill-seekers and action game enthusiasts, immerse yourself in the dynamic and daring world of Squid Challenge Escape. This game masterfully combines elements of running games, gun games, survival games, and escape games to offer a unique, adrenaline-fueled experience.
Strategically set in the chilling environment of the infamous Squid Game series, this action-packed game challenges your survival instincts. The premise is simple yet engaging - you are a player determined to break the shackles of this terrifying world and escape. You'd think nothing could get more exciting than that. But wait until you grasp the array of weapons at your disposal!
Taking inspiration from classic gun games, Squid Challenge Escape equips you with an arsenal to face off against hooded enemies. The nail-biting suspense coupled with fast-paced gameplay makes this one of the top running games on kiz10.com. But it doesn't stop there. Remember those pesky drones surveilling every corner? They're not just for show!
The game intertwines elements from popular survival games as you dodge drone surveillance, outsmart enemies and navigate through a maze-like facility harbouring danger at every turn. The tension builds as you try to outlive your pursuers, adding real stakes to your quest for freedom.
There's nothing like experiencing Squid Challenge Escape, a perfect blend of thrilling escape games and intense action sequences. So step into the shoes of a determined contender, grip your weapon tightly and prepare for the run of your life! Play this exhilarating game free on kiz10.com now!
What are the best online games?