Spider Swing Manhattan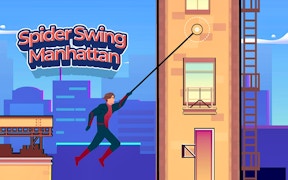 Spider Swing Manhattan
Welcome to the captivating world of Spider Swing Manhattan, an exhilarating blend of action and skill, neatly packed in a simple yet addictive format. This game cleverly meshes tap games with the adrenaline rush of running games, whilst throwing in the strategic requirement associated with survival games.
In this side-scrolling venture, players don the role of Spidey, testing their reflexes and precision as they swing from building to building in a gameplay reminiscent of classic clicker games. The controls are simple yet effective - tap to shoot a web and hold to swing. The real fun begins when you let go, allowing Spidey to catapult himself across Manhattan's urban jungle. Graphics come alive as Spider Swing Manhattan paints a vibrant cityscape that offers both a scenic backdrop and lethal hurdles.
A true test of Skill Games, player progression relies not only on quick taps but also strategic releases, mastering the art of momentum. Each swing is fraught with potential disaster as you navigate skyscrapers, dodge ominous obstacles and plummeting falls - truly capturing the survival aspect characteristic of thrilling running games.
Spider Swing Manhattan keeps gamers coming back for more with its seamless integration of risk and reward. The further you swing with your spider powers, the higher your score rockets, creating an insatiable desire to outdo your personal best in this dynamic addition to the realm of survival games.
A harmonious blend of various gaming styles including clicker games, tap games, and even elements from popular running games, Spider Swing Manhattan is more than just an action-packed adventure - it's a testament to how diverse facets can be interwoven into one cohesive and engaging gaming experience.
Overall, if you're seeking a game that tests your reaction speed while delivering quick bursts of high-energy gameplay – strap on Spidey's costume and dive into Spider Swing Manhattan. Your spider senses will thank you!
What are the best online games?