Spider Fly Heros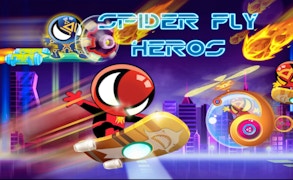 Spider Fly Heros
If you're in the market for a mix of running games and flying games with a dollop of action, then you might just find your taste buds tingling with the exhilarating Spider Fly Heros. The game is a dynamic blend of rushing adrenaline and swift reflexes, made specifically for those who can't resist the allure of fast-paced gameplay.
Spider Fly Heros weaves its web around the concept of being both a running and flying game, allowing players to experience the thrills and spills from both genres. Having to switch between flying through the air and running on the ground adds a unique spice to the overall gameplay, testing your ability to adapt quickly.
The game lays out endless running roads and vast skies that draw you into its realm. The action intensifies when you start to encounter obstacles as our hero continues his mission. As a spider hero, you'll run but as soon as danger strikes, fly high above it. The seamless transition between these two modes is one of Spider Fly Heros' standout features.
The graphics of Spider Fly Heros are enticing with vibrant colors popping on screen along with responsive control mechanisms that make playing this game an absolute delight. It also incorporates exciting power-ups which add further complexity to this incredibly engaging experience.
In conclusion, Spider Fly Heros takes you on an enthralling joyride through its unique combination of running and flying mechanisms that are bound to keep you hooked. Whether it's for passing time or indulging in some intense gaming session, this game is an excellent choice for both casual gamers and hardcore action enthusiasts. So why wait? Put on your superhero cape and immerse yourself in the world of Spider Fly Heros today!
What are the best online games?