Space Route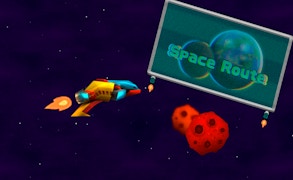 Space Route
Description
In Space Route, you become the pilot of a speedy spaceship navigating through a perilous cosmos. Your mission? To make it back to your home planet while avoiding destructive meteorites. The real twist? The duration of your perilous journey remains a mystery until you're deep within the game's captivating narrative.
How to Play
To control your spaceship, simply use your keyboard arrows or the mouse. Your main task is to dodge the oncoming meteorites and maintain control over your spacecraft. As you progress, the game becomes more challenging, with the game speed increasing and meteorites arriving in large numbers."
Tips and Tricks
The key to success in Space Route is to stay focused and alert. Remember that meteorites manifest unpredictably, demanding quick reflexes. As your journey lengthens, ensure that you adapt to the increasing game speed and influx of obstacles.
Features
Astoundingly Dynamic Gameplay: With its unpredictable meteorite patterns and varying game speed, Space Route ensures a thrilling experience.
Intriguing Mystery: The suspenseful narrative draws players into their character's journey back home.
Skill-Based Progress: Your progress solely depends on how effectively you dodge obstacles and control your spaceship.
What are the best online games?