Space Crash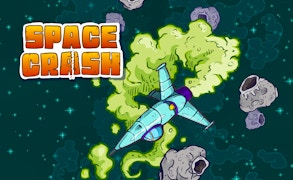 Space Crash
Description
Embark on a fearless journey through the cosmos in Space Crash. You'll play as Captain Rogers, an intrepid galactic hero who's navigating his spaceship through a treacherous sector. Unfortunately, his ship's laser controls are malfunctioning, and he's out of his favorite snack, 'Astro-bud'. This space adventure filled with humor and dangerous obstacles will keep you entertained for hours.
How to play
The gameplay mechanics of Space Crash involve the spaceship constantly rotating in space. Your task is to control it by tapping on the screen, causing it to rise slightly. Be careful not to fly off the screen or crash into asteroids, and remember that your laser gun is firing non-stop due to the jam. Use these constant streams of lasers to destroy asteroids and earn points.
Tips and Tricks
Timing is key in Space Crash. Synchronization between the rotation of your ship and your taps can help avoid collisions with asteroids. Also, use your malfunctioning laser gun to your advantage by aiming it toward incoming asteroids for extra points.
Features
Hilarious character: Captain Rogers adds humor to this adventure game.
Addictive gameplay: Constant rotation of the spaceship provides an engaging challenge.
Misbehaving Laser: Use your uncontrollable laser gun to destroy asteroids.
High score system: Earn points by blasting asteroids with your constant laser fire.
What are the best online games?