Sniper Shot: Bullet Time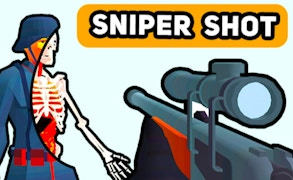 Sniper Shot: Bullet Time
Welcome to our review of the dynamic new addition to the world of gun games, Sniper Shot: Bullet Time. This thrilling mix of sniper games and battle games will charge every fiber of your gaming spirits.
You'll have a sniper rifle in your hands, making for an exhilarating entry into the realm of shooting games. Your sole task? Aim at your enemy. When you pull that trigger and watch the trajectory of your bullet as it pierces through enemy lines, there's a rush that is often missing in other survival games.
The defining feature of Sniper Shot: Bullet Time is its realism - each shot is unique, each round in this tense warfare landscape feels authentic. You're not merely thrust into gunfights; you're taking part in a detailed simulation where every action echoes with the harsh realities of war.
This isn't just about targeting and shooting; it's about understanding the art behind it. You can choose different shooting positions, targeting different body parts, experiment with various strategies – embodying the analytical core seen in the best war games.
With every bullet that flies, with every enemy that drops - Sniper Shot: Bullet Time takes you deeper into tactical techniques and intricate battles. Every shot counts! It's time to pick up that sniper rifle and step onto the battlefield; it's time for battle!
A unique thriller amongst gun games, Sniper Shot: Bullet Time stands out with its blend of intense action, realistic combat scenarios, and strategic depth not common in traditional war games. Here's to achieving ultimate skills in sniper shooting!
What are the best online games?