Slenderman Must Die: Silent Streets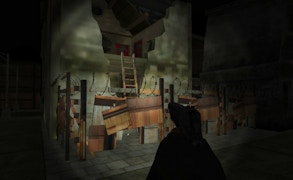 Slenderman Must Die: Silent Streets
Immerse yourself in the darkest corners of survival with Slenderman Must Die: Silent Streets. One of the most exciting releases in recent horror games, it skillfully merges the thrill of gun games, sniper games and zombie games into a spine-chilling experience.
The game presents a compelling new chapter that has you delve into eerie city streets and a bone-chilling Winter Forest. This Christmas Special is no merry holiday ride, but a battle to survive against Slenderman and his sinister companions. The challenge is simple – find seven presents before you become the prey, turning this survival game into an adrenaline-raising race against time.
With improved graphics, you'll feel an inescapable sense of dread as Silent City comes alive in all its somber detail. Following the tradition of the best zombie games, Slenderman Must Die keeps you on your toes, with fear lurking around every corner. This makes the gameplay both horrifying and mesmerizing - an irresistible draw for fans of scary games.
Apart from being among the top-tier gun games and sniper games out there, what sets Slenderman Must Die apart is its devotion to suspense and horror. Are you the hunter or are you prey? This question keeps repeating as you traverse through city streets shrouded in silence except for your echoing footsteps.
In conclusion, Slenderman Must Die: Silent Streets isn't just another addition to your library of horror games or gun games; it's an immersive journey that tests your mettle at every turn. If sniper games that blend survival strategy with high-stakes horror are your calling, then this game is undoubtedly for you.
What are the best online games?