Slenderman Must Die: Silent Forest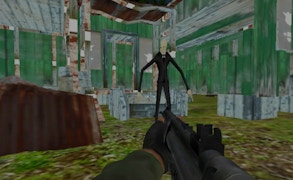 Slenderman Must Die: Silent Forest
Welcome, gamers, to the eerie universe of Slenderman Must Die: Silent Forest, one of the most enthralling games in the shooting genre. A deft blend of gun games, sniper games, survival games, mixed with elements of zombie games, this is a nightmare you'd voluntarily sign up for. Not for the faint-hearted, you'll find yourself locked in an excitingly spooky battle amidst a foggy forest and uncanny abandoned buildings.
Your mission is straightforward yet terrifying - hunt or be hunted! Imagine yourself trapped in Slenderman's chilling natural habitat - the Silent Forest, with only your courage and an arsenal of impressive weapons to carry you through the ordeal. As night turns into day and back again, every rustling leaf and snapping twig intensifies the horror.
The game beautifully encapsulates elements of scary horror games as you're tasked with finding eight pages spread across the forest. But don't let your guard down; each page found brings you closer to Slenderman's deadly grasp. While you would have heard tales about running and hiding from this faceless horror, now it's time for him to tremble at your might. The hunting season on Slenderman is officially open!
In an amalgamation of adrenaline-pumping action and bone-chilling fear, Slenderman Must Die: Silent Forest stands tall as a top contender in our favorite zombie games. Its immersive gameplay expertly coupled with state-of-the-art graphics provides an unparalleled gaming experience. So gear up gamers, delve into this virtual haunted forest, and may your aim be steady — remember; it's kill or be killed here!
If heart-skipping moments and high-quality shooting dynamics are what you crave within your gaming universe, then this nerve-wracking encounter awaits you.Slenderman Must Die: Silent Forest, a must-play game for all horror aficionados out there.
What are the best online games?