Sky Warrior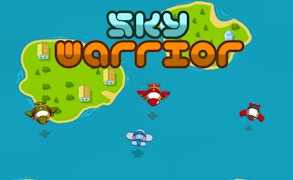 Sky Warrior
Description
Get ready for a thrilling high-flying adventure in Sky Warrior. This exciting HTML5 arcade game plunges players into intense aerial combat. With enemy planes swarming the skies, it's up to you to defend your territory. Man your aircraft, outmaneuver your foes, and unleash devastation from above. The high stakes battles against AI-controlled planes will push every gamer's skills to the limit.
How to Play
In Sky Warrior, players control their plane using the arrow keys or touch controls on their device. The goal is simple: destroy all incoming enemy planes while avoiding their barrage of bullets. As you progress in the game, you'll encounter tougher enemies, but don't worry - successful missions will grant you upgrades to enhance your firepower and durability.
Tips and Tricks
Mastering the art of dodging is key in Sky Warrior. Always stay mobile and be ready to change direction at a moment's notice. Aim carefully before releasing your shots for maximum damage. Remember, upgrading your plane will make it more powerful and resilient.
Features
Fast-paced aerial combat gameplay.
Intuitive controls that are easy to grasp but difficult to master.
A variety of challenging enemies with different patterns of attack.
A dynamic upgrade system allowing you to customize your plane.
Crisp HTML5 graphics that provide an immersive game-play experience.
What are the best online games?