Siren Head: Sound of Despair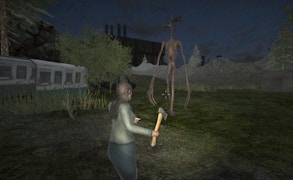 Siren Head: Sound of Despair
Immerse yourself in the eerie world of Siren Head: Sound of Despair, an entrancing addition to the horror games genre. Set against the backdrop of postbombardment Belgrade, 1999, this captivating title snares you with its atmospheric narrative and unrelenting suspense.
The game promptly drops you in a serene camping location, where a startling disappearance sets your pulse racing. As you search for your vanished husband amidst the verdant foliage, you encounter one of the most chilling figures in scary games: the menacing Siren Head. The mystery surrounding this creature's origin—whether it's a military secret or a freak mutation—only deepens the aura of dread.
In this invigorating blend of survival, escape, and zombie games, you will face bloodcurdling battles with Siren Head. Even for seasoned fans of monster games, Siren Head's design is unique and hauntingly memorable. The player's desperate quest for survival is made even more nerve-wracking by their limited resources, which they must strategically manage as they navigate hostile terrain teeming with graves threats.
Siren Head: Sound of Despair is also one for fans of gun games. The weapons are integral to your survival strategy, necessitating both tactical planning and quick reflexes to utilise them effectively against Siren Head and other lurking threats.
In terms of audio-visual design, the game masterfully sets up its spine-chilling mood. The distinct blend of historical reality and supernatural horror creates an authentic experience that distinguishes it from typical horror offerings.
No fan of thrilling horror should miss out on this heart-stopping game. If you're an avid fan of survival horror or just seeking a haunting adventure, let your hope lead you into the eerie embrace of Siren Head: Sound of Despair.
What are the best online games?