Siege Hero Viking Vengeance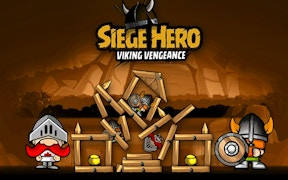 Siege Hero Viking Vengeance
Deep within the realm of knight games, emerges a novel twist with an infusion of gun-powder driven action. Meet Siege Hero Viking Vengeance, an exhilarating blend of battle games and shooter thrills. In this adrenaline filled spectacle, you'll be doing far more than just saving damsels in distress.
It's a battlefield like no other, engrossing you in the thick of combat amidst frenzied vikings. It takes more than brute force to stand tall here; it's a true testament to gun games where quick reflexes, precision aiming, and tactical skills reign supreme. You'll be finding weak spots in enemy defenses, executing well-planned attacks and leading your forces to victory.
The grandeur of this game lies not just in its thrilling battles, but also in its immersive storyline. Every innocent villager saved, every treasure looted fuels your journey through these harsh lands. Witness the fruits of your bravery as you transform from a lone warrior into a celebrated hero.
Siege Hero Viking Vengeance is more than just a game; it's an epic saga woven into the fabric of knight games. The combination of strategic battles and high-octane shooting mechanics makes it a gem among Skill Games.
If you're yearning for a game that tests your tactical prowess while letting you unleash hell with powerful guns, Siege Hero Viking Vengeance is the perfect choice. So, step into your armor, unsheathe your weapon and prepare to rewrite history. As they say - have fun and do the right thing!
In conclusion, Siege Hero Viking Vengeance takes the best elements from knight games, gun games, battle games and skill games to provide an unforgettable gaming experience that will keep you hooked for hours on end.
What are the best online games?