Shark Hunting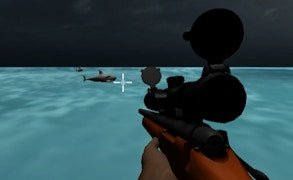 Shark Hunting
Are you hungry for adrenaline-pumping action and oceanic adventures? Welcome to the thrilling universe of Shark Hunting, a game that combines the high-stakes thrill of hunting games, the strategic precision of gun games, and the bitingly fierce danger of sharks games into one seamless, immersive experience.
At its core, Shark Hunting is not just about shooting down massive marine predators. It's about honing your timing, decision-making skills, and competitive instincts. Predicting your target's movement while keeping your crosshair steady? That's where real expertise lies.
The gameplay is straightforward yet engaging: move your mouse to aim at your underwater target, zoom in for a better shot with a right mouse click, pull the trigger with a left mouse click, and switch between your arsenal of weapons with a simple mouse scroll. It's simplistic enough to jump straight into, yet challenging enough to keep hardcore gamers hooked.
There's nothing quite like the rush when you take aim at a colossal shark through your scoped rifle – it's hunting redefined for a new generation of gamers. Each successful hunt not only rewards you with points but also satiates that primal thrill innate to every hunting enthusiast.
In conclusion, Shark Hunting beautifully merges the worlds of hunting games and gun games against the backdrop of an undersea realm teeming with deadly sharks. It's unique. It's challenging. And most importantly, it's downright fun!
If there's anything gamers should sink their teeth into this season - it's Shark Hunting.
What are the best online games?