SCP 096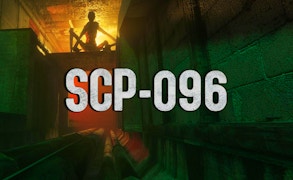 SCP 096
The horror genre is a popular one in gaming both for thrillseekers who want to play or just watch which is why SCP 096 will find a sizable audience. Based on internet stories and the idea of secretly created creatures, the SCP series has expanded throughout the internet with a number of games to play. This one has the same feel as its peers in terms of being a first-person exploration experience where you're trapped in a large and confusing area with a dangerous creature on the loose. It's both a situation where you want to move quickly as well as quietly which can be difficult when being hunted.
About SCP 096
Whether you subscribe to the ideas posed by the SCP stories, the fear is all too real when you find yourself in the game. There aren't many feelings that match the feeling of being hunted, especially if the hunter is completely unknown. SCP provides a lot of different types of creatures and 096 is just as terrifying as those that share the facility with it. The scary thing is that they almost seem human, but that won't start them from hunting a human who has wandered into their lair. Probably best not to play this if you scare easily.
How to Play
SCP 096 puts you into the role of a harmless person with very few actions available to them on the mouse and keyboard.
Controls
Mouse Cursor - Look Around
W/Up Arrow - Move Forward
S/Down Arrow - Move Backward
A/Left Arrow - Move Left
D/Right Arrow - Move Right
Shift - Sprint
Spacebar - Jump
F - Toggle Flashlight
E – Interact
There is a story in play here but your main concern is survival. Regardless of how you ended up in the facility, you now need to escape. The only tool you have is a flashlight which provides much-needed light in dark areas. Your objective will appear in red text in the middle of the screen with some unlocking after some time has passed. Until then, you need to explore and avoid attracting the attention of the creature. The noise you generate will be indicated by a bar on the right. Walking makes a decent amount of noise, but sprinting and jumping generate a ton which is very dangerous. If the creature catches you, it's game over. The only way to win is to find the way out.
Tips and Tricks
The best thing you can do in such a situation is not to linger. Though this creature can be seen as much more passive than other SCP subjects, it has periods of aggression that will provoke it to seek you out. If you do hear or spot it, get out of view, stop moving, and turn off your flashlight.
Game Details
Developer: Dr. Dan
Platforms: Web Browser (PC and mobile), iOS, and Android
Languages: English

Gameplay Footage
FAQs

Why does SCP 096 cry?
Among all the SCP creatures, 096 is frequently referred to as "The Crying Man". This makes it one of the more harmless mutants who mainly become aggressive when disturbed. There are many theories as to why the creature cries. A reasonable theory is that the creature is aware of its situation and cries out of sadness and pain.
Is this game free?
Although SCP 096 is still being developed with new levels to appear later on, the game is currently free on all platforms that it is available.
Games similar to SCP 096
With horror elements at play here, this title is found in Escape and Scary Games categories on GamePix. Also in these categories are games like Happy Room, Granny, Short Life, and Dark Lands.
What are the best online games?