Save the Sheep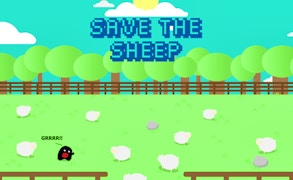 Save the Sheep
Description
In Save the Sheep, your mission is to fend off ghostly foes aiming to snatch your innocent sheep. This thrilling action game merges elements of animal, sniper and monster gameplay to deliver an incredibly addictive experience. Armed with your trusty sniper rifle, you'll grapple with ever-increasing waves of spectral aggressors. Every click brings the promise of victory or defeat, making each gameplay moment tense and rewarding.
How to Play
The mechanics of Save the Sheep are straightforward. Your primary objective is to protect your sheep from the ghostly invaders using a simple tap-and-shoot approach. This is a rapid clicker game, so quickly and accurately tapping on the ghosts will kill them and keep your sheep safe. The game progresses, the speed and number of ghosts increase requiring quicker reflexes from you.
Tips and Tricks
In order to excel at Save the Sheep, it's crucial to react swiftly and accurately. As this is a tap-based game, mastering precision tapping will ensure maximum damage against enemies. Also, keep an eye out for power-ups - they can provide timely assistance when facing larger ghost waves.
Features
Addictive clicker-tap gameplay: The fast pace and simplistic control scheme keeps you hooked.
Challenging enemy waves: The monsters grow in number and speed as you progress.
Cute animal graphics: The charming visual style adds a fun layer to the sniping action.
Persistent upgrades: Enhance your abilities for better performance in later levels.
What are the best online games?