Sarens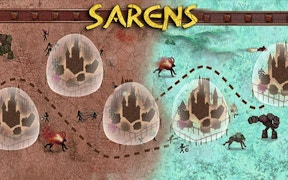 Sarens
Immerse yourself in the captivating world of Sarens, a top-notch entry amongst the pantheon of stickman games. This top-down defense game offers an enchanting background set within a fantasy kingdom besieged by ferocious enemy stickmen. As an ardent fan of defense games, you have a crucial mission: Prevent these enemy invasions and safeguard your castle. Upgrade your magical skills for an even more effective defense, making Sarens one of the most engaging battle games on offer.
In Sarens, the intricate art of war extends beyond mere clicks and taps – it is about strategy. The game exhibits all the essential elements that make clicker games addictive, with an added layer of strategic depth that sets it apart from other tap games. Your adversaries approach from the left and right edges, plotting to demolish your fortifications and infiltrate the kingdom. Devising a strategy to halt their advances is a thrilling challenge, a testament to why Sarens deserves its spot among premier war games.
The essence of Sarens lies within its magic system: as you enhance your abilities and upgrade your skills, you transform into a formidable force against encroaching enemies. This dynamic adds another layer to the overall gameplay experience, merging magic with combat on an exciting battlefield.
In summary, Sarens is more than just another stickman game—it's a rare blend of clicker mechanics and strategic warfare that will keep you engaged for hours on end. Whether you're new to battle games or seeking your next tap game obsession, give Sarens a spin; it might just be the magical adventure you've been waiting for.
What are the best online games?