Run Away 3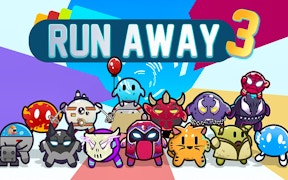 Run Away 3
Get ready to embark on a galactic adventure with the all-new action-packed, adrenaline-filled game, Run Away 3. As adrenaline surges through your veins, you'll soon realize that this isn't just another run-of-the-mill monster game. Neither is it simply a running game or just another among countless skill games. It is much more – it is an experience.
Imagine being a little alien lost in the vast expanse of the cosmos. Your mission? Navigate through nebulae and quasars, blaze a trail across space and time, and explore galaxies far and away from your home planet. This isn't just about running away; it's about surviving against all odds in the cold void of space.
In Run Away 3, running is not just an option but a necessity for survival. Slow down for even a moment, and you'll find yourself waist-deep in trouble. Hold onto your seats because once you start playing this engrossing running game, there's no going back. Life as a cosmic explorer means ever-present danger; when tunnels appear out of nowhere or holes materialize in the fabric of space itself – you can either run or be consumed by these otherworldly hazards.
This game is highly addictive. It hooks you with its seamless graphics, keeps you engaged with its fast-paced gameplay, and captivates you with its intriguing storyline. Escape from gargantuan monsters lurking in the dark corners of space that will send shivers down your spine.
The combination of tension-inducing gameplay and meticulously detailed graphics makes Run Away 3 truly stand out amongst other monster games or skill games currently in the market. So put on your running shoes and get ready to run like never before! Will you take up the challenge to roam freely in this exhilarating space saga? Run now or disappear into oblivion.
What are the best online games?