Rolly Legs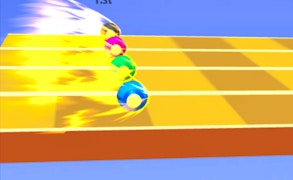 Rolly Legs
Stepping into the vibrant world of Rolly Legs, one is instantly caught up in an action-packed adventure of dexterous robots, challenging races, and thrilling competition. This game effortlessly merges the rush of running games with the exhilarating freedom of flying games, creating a unique gaming experience that is both fun and captivating.
The premise is deceptively simple - control your robot to ascend, dodge obstacles, and aim to get ahead of your competitors. However, as you delve deeper into the game's mechanics, you find a complex, high-stakes race where every move can decide between victory or defeat. The beauty of Rolly Legs lies in this fine balance. The easy-to-master controls make it accessible for casual gamers looking for fun games, yet its challenging nature appeals to more serious players seeking a substantial gaming endeavor.
A player's journey in Rolly Legs is marked by quick thinking and strategic maneuvering. Your robot isn't just passively racing; it's vaulting over obstacles, soaring through open skies and sprinting towards the finish line. This constant shift between running and flying creates dynamic gameplay that keeps the action perpetually fresh and exciting.
As you navigate through various terrains to leave your opponents behind, you'll find yourself immersed in the thrill of competition that's at the heart of this action-packed game. Winning is not just about reaching the destination first; it's about how gracefully you can dodge obstacles, how intelligently you navigate, and how fearlessly you take on challenges along your path.
In conclusion, Rolly Legs is an outstanding combination of fast-paced running maneuverability and soaring flying sensations. It offers an addictive mix of intense competition and exhilarating fun that guarantees gamers a good time they won't soon forget.
What are the best online games?