Roller Coaster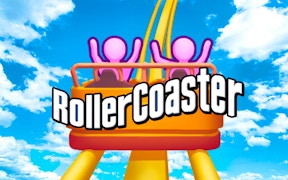 Roller Coaster
Get ready to strap in for a wild ride in one of the most thrilling action packed adventures to hit the gaming scene. I'm talking about Roller Coaster, a game that masterfully combines elements of driving games, running games, and fun games into one unforgettable experience.
This game is not just about speed, it's about strategy, precision, and heart-pounding excitement. The objective is simple: navigate tortuous roller coaster tracks at breakneck speed while picking up as many passengers as you can. But don't be fooled; this is no easy feat. The game mechanics are challenging enough to keep you on the edge of your seat but never so difficult that it takes away from the fun.
The graphics are nothing short of breathtaking. With an array of different levels showcasing stunning, realistic backgrounds, rarely have stickman games looked so good. As you guide your train through loops and leaps with adrenaline coursing through your veins, you'll feel as though you're experiencing the actual ride.
In Roller Coaster, the more passengers you collect, the merrier the journey gets. The joy and laughter onboard only add to what makes this one of the most rewarding and enjoyable gaming experiences out there. It's an adrenaline-soaked journey where thrill-seekers will find their ultimate playground.
Roller Coaster proves that simplicity can indeed beget greatness in gaming. With its addictive gameplay and visually striking landscapes, it stands tall among other action-packed gaming titles on offer today. Missing out on Roller Coaster would genuinely be like missing out on a great roller coaster ride - thrilling, fun and completely unforgettable.
In conclusion, if you're in search of enjoyment that accelerates faster than a runaway rollercoaster, look no further than Roller Coaster! It's an absolute must-play for fans of action-heavy driving games, intense running games, entertaining fun games, and fast-paced stickman games.
What are the best online games?