Riot Escape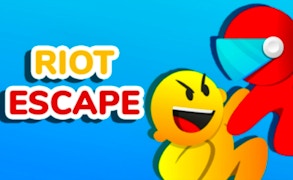 Riot Escape
Experience the exhilarating pulse-pounding world of action games with the latest release, Riot Escape. This standout title in the vibrant genre of stickman games delivers an unmatched action-packed experience that tests your strategy, precision, and speed. Whether you are a veteran gamer or a beginner, Riot Escape will keep you on edge.
Riot Escape offers two thrilling perspectives for players: you can be the nimble and daring fugitive, evading capture, or take up the role of relentless police keeping law and order. This feature is what sets it apart from other popular police games. Its dynamic narrative coupled with heart-thumping gameplay is exactly what earns Riot Escape a spot among the top-ranking action games.
This game fuses elements of escape games and running games, resulting in an exciting blend of adrenaline-fueled chases and intellect-challenging puzzles. The plot thickens as you navigate through intricate mazes filled with traps while outsmarting the police in your quest for freedom. The sheer unpredictability adds to the overall thrill, demanding sharp wits and quick reflexes.
In addition to its intense plot and exciting gameplay, Riot Escape also stands out as one of the top Skill Games. The game design encourages growth through repetition. As you progress through levels, your skills improve not by unlocking new abilities but by mastering existing ones through practice.
In conclusion, Riot Escape takes stickman games to new heights with its unique blend of high-speed escape sequences and clever puzzles set within a vibrant environment. Its versatile perspective-play makes it stand out among police games while offering players an addictive blend of escape games and running games elements. So if you're up for the challenge, prepare to immerse yourself in this world where every move counts!
What are the best online games?