Reaperman vs Goblins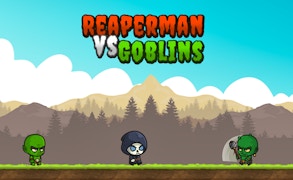 Reaperman vs Goblins
Description
Immerse yourself in the enthralling world of Reaperman vs Goblins, a captivating HTML5 action arcade game. You'll take on the role of the Reaperman, a fearless warrior equipped with an array of weapons including knives, fire sticks, and special attacks to combat menacing goblin armies. Slay your foes and accumulate as many points as possible in this thrilling game.
How to Play
The game controls are straightforward and engaging. Use the arrow keys to move your Reaperman around. Attack using your knife or fire stick by merely pressing the "A" or "S" buttons respectively. When facing larger enemies, unleash devastating special attacks like fireballs or lightning through the "D" button. Your goal is to earn the highest score possible by defeating as many goblins as you can.
Tips and Tricks
To survive longer in this unforgiving battle arena, pay particular attention to your timing. Use your knife for quick strikes against lone enemies and reserve your fire stick for clusters of goblins. Don't forget to use your special attacks. They are especially potent when you're cornered or overwhelmed.
Features
Intricate gameplay mechanics keeping players engaged.
A vast arsenal of weapons available at your disposal.
An exciting scoring system promotes competitive gaming.
Dynamic challenges with an increasingly difficult horde of goblins.
Epic special attacks add further depth to combat strategy.
What are the best online games?