Real Flight Simulator 3D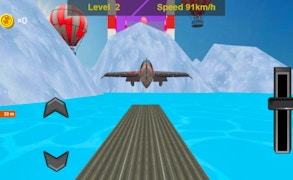 Real Flight Simulator 3D
Ever dreamt of navigating an aircraft off the confinements of the earth, embracing the open sky? The Real Flight Simulator 3D, a high-octane entry in both flying-games and plane-games genre, offers you exactly that - a taste of airborne freedom. Break through gravity's silent, imposing chain and feel your pulse quicken as the landscape shrinks beneath you.
The game successfully replicates the mesmerizing feeling of soaring above mountains and cruising past rivers. This simulator offers not only a sophisticated gaming experience but also an exhilarating plunge into the world of aviators. It gives you an authentic taste of aviation - from pre-flight checks to landing protocols, every detail is polished to near-perfection.
In terms of visuals, Real Flight Simulator 3D is a marvel to behold. The meticulously rendered landscapes inspire awe and offer endless exploration possibilities. The planes themselves are models of perfection - each aircraft is a faithful reproduction of its real-world counterpart.
The controls are intuitive yet challenging enough to keep even seasoned gamers engaged. Mastering the skill needed to precisely land these aircrafts provides a satisfying challenge that will have you coming back for more.
A standout among simulator-games, Real Flight Simulator 3D is where thrilling airborne adventures meet reality. This game is not just an escape to the skies; it's a journey into the very heart of flight itself. Strap in, take control, and let your dreams take flight!
What are the best online games?