Prison Rush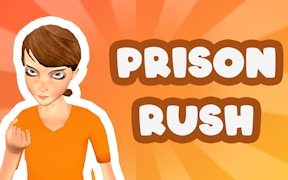 Prison Rush
In the thrilling world of action games, a fresh contender has emerged – Prison Rush. This captivating blend of running and gangster games plunges you into an adrenaline-pumping trial of endurance and survival, wrapped in a rich narrative fabric. If you've been craving immersive police games or audacious skill games, this unique fusion will have your gaming senses on edge.
Imagine yourself on death row, condemned by a conspiracy and left with only one chance for redemption - orchestrating the perfect prison breakout. Prison Rush is not just about running; it's a battle against time, conspiracy, guardians and limits. This game compels you to mastermind your escape plan, turning the prison corridors into your own personal labyrinth.
The genius in Prison Rush lies in its ability to make you part of an intricate survival tale. It incorporates elements from gangster games, where forging alliances with other prisoners becomes paramount for survival. This feature sets it apart from common run-of-the-mill running games.
Your skills will be tested as each level requires strategic navigation through different prison blocks while evading ever-watchful guardians. Unlike conventional police games, you're on the wrong side of law here, which heightens the thrill of chase and escape.
In conclusion, with its seamless blend of action-packed gameplay and engaging storyline, Prison Rush leaves no stone unturned in delivering an unforgettable gaming experience. This game redefines what it means to be on the edge - your seat or otherwise. Whether you are a fan of nerve-wracking running games, intense gangster games, gripping police games, or challenging Skill Games, Prison Rush satisfies all tastes with aplomb.
What are the best online games?