Poop Clicker 2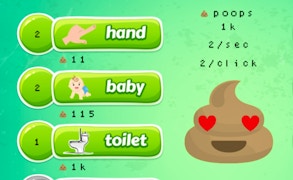 Poop Clicker 2
Get ready for one of the most peculiar games in the galaxy of action-packed clicker games, Poop Clicker 2. Amidst a universe inundated with conventional shoot-em-ups and neverending battle royales, this game offers a humorous yet binge-worthy experience. The simple premise of tapping on excrement might sound crude, but its addictive mechanics unquestionably make it one of the most fun games on the market.
Incorporating all the essential elements that define tap games, Poop Clicker 2 pushes you to literally tap your way to victory. The adrenaline rush you experience when you frantically tap on your screen, accelerating your poop count, is indescribable. The game's objective? Making as much fecal matter disappear as possible by simple taps. Don't knock it 'til you've tried it!
The unique charm lies in its brilliant blend of simplicity and strategy. As players progress, they accumulate poop currency to invest in diverse upgrades. This strategic dimension adds an intriguing layer that distinguishes it from stereotypical idle games.
Poop Clicker 2 is surprisingly captivating for an idle game, offering several layers of entertainment beyond the initial click frenzy. Whether buying upgrades or hiring additional help, there's always something engaging to spend your soiled spoils on.
In conclusion, if you're seeking a change from traditional action games and enjoy light-hearted humor coupled with fast-paced clicking action, then Poop Clicker 2 is worth a try. With its silly charm and deceptively simple gameplay mechanics, this game poops on the competition in the best way possible.
What are the best online games?