Pixel Zombie Survival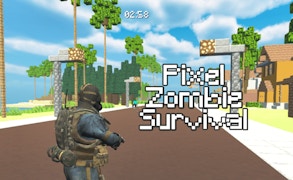 Pixel Zombie Survival
Description
In Pixel Zombie Survival, you find yourself in the midst of an apocalyptic world swarmed by blocky undead creatures. As a special forces soldier, it's your daunting task to fend off these monstrous threats using a wide array of weapons at your disposal. This game features an expansive blocky landscape where the intensity of zombie warfare is boundless. Your ultimate goal? Ensure your survival as the clock ticks away.
How to Play
Pixel Zombie Survival's gameplay revolves around strategic shooting and survival. Use your mouse to aim and click to fire at the zombie horde, annihilating them from the game scene. Various types of weapons are available for use - make sure to pick them based on your situation for maximum effect. Remain vigilant and keep moving, as standing still will only get you overrun by zombies.
Tips and Tricks
Time is crucial in Pixel Zombie Survival. The faster you eliminate the zombies, the higher your chance of survival. Optimize your weapon use according to enemy type - some zombies might require heavier firepower than others. Keep moving, remember that standing still is detrimental and could lead to game over.
Features
Rapid-fire action in an expansive pixelated world.
Diverse range of pixelated weapons for different combat scenarios.
Intense time-bound gameplay, keeping players always on their toes.
Riveting horror ambience with lurking zombies around every corner.
What are the best online games?