Pixel Survive Western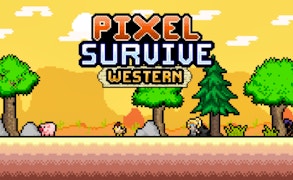 Pixel Survive Western
Step into the realm of Pixel Survive Western, a vibrant new addition in the arena of pixel games. This foray of RPG and Adventure genres leads us on an epic journey through the brutal, unforgiving landscapes of the wild west.
As with most survival games, Pixel Survive Western drops you into a vast, sprawling world rich in desolate desert and arid land. The gameplay is refreshingly challenging, making it a prominent title amongst knight games, your survival hinging upon harnessing your wits, resources and forging alliances with newfound companions.
The real star of Pixel Survive Western, however, is our hero — the Dragon Knight. As intriguing as his name suggests, this protagonist adds an appealing layer to this riveting western story. His charisma and strength are put to the test in intense battles against mythical creatures underlining its stand amongst other noteworthy dragon games.
In terms of combat, Pixel Survive Western doesn't disappoint. The battles are thrillingly orchestrated and demand strategy and foresight from players. This is not just another game about dragon-slaying or western gunslinging — it's a combination that brings together the best elements from both battle games and survival games.
In conclusion, Pixel Survive Western proves to be an exhilarating blend of adventure and strategy. Its charming retro pixel-art style brings a nostalgic touch while its complex gameplay dynamics ensure players remain captivated. Whether you're a fan of pixel games or looking for your next knight adventure — this amalgamation of knight saga and dragon myth holds a promise of an enthralling experience that's second to none!
Forget what you know about RPGs; let Pixel Survive Western redefine your gaming landscape today!
What are the best online games?