Noob Vs 1000 Zombies!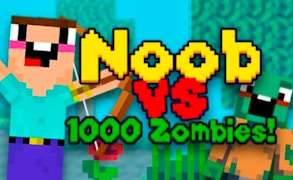 Noob Vs 1000 Zombies!
Step into the pixelated world of "Noob Vs 1000 Zombies", a gripping action-packed adventure that merges the thrill of archery games with the grim charm of zombie games. This is not just one of your run-of-the-mill battle games. No, this gem of a game takes it to a whole new level.
You play as Noob, a rookie archer with an unwavering spirit, sworn to save a helpless sheep from a horde of relentless zombies. As you traverse through different biomes in your quest, you'll find yourself dodging deadly traps in the fiery forest and unearthing secrets in mysterious mines. And if you think this game is all action and no fun, then you're in for a surprise!
The genius behind this game has seamlessly woven humor into the fabric of this gripping saga. The hilarious cartoons and Noob's slapstick antics are undoubtedly a highlight, sure to tickle your funny bone as you mow down legions of zombies. Every level comes packed with unique challenges, making each stage feel fresh and engaging.
In "Noob Vs 1000 Zombies", every zombie you slay brings you closer to unlocking an array of weapons for Noob. This feature keeps the dynamic gameplay alive, encouraging players to keep coming back for more zombie-slaying action. Plus, earning money and discovering lucky blocks add layers of excitement to this vibrant game.
As far as pixel games go, "Noob Vs 1000 Zombies" stands out for its captivating storyline, engaging gameplay mechanics, and excellent replay value. It's more than just another zombie title; it's an adventure where every arrow counts! Step up to the challenge and help Noob become the unlikely hero in his very own story!
What are the best online games?