Pixel Gun Apocalypse 2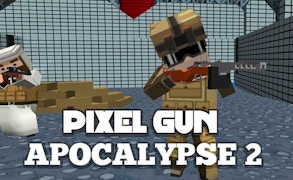 Pixel Gun Apocalypse 2
Welcome back, fellow gamers, to the blocky, adrenaline-pumping world of Pixel Gun Apocalypse 2. This is not just one of those run-of-the-mill gun games; it's a high octane mix of survival games and pixel games that will keep your heart racing and your fingers twitching.
Step into the chaotic battlefield of this stellar sequel where you can unleash your inner sniper or charge headfirst into a hail of bullets. Every choice, every bullet counts in the ruthless and exhilarating world of Pixel Gun Apocalypse 2, which easily ranks among the best sniper games today.
This game offers a variety of exciting game modes that will challenge even the most seasoned gamers. The survival mode is not just about staying alive but standing tall amidst pixelated chaos. And let's not forget battle mode – a pure feast for those who love fast-paced gun games.
The graphics are superbly executed, keeping true to their pixel roots while adding layers of depth and detail that make every round feel fresh and engaging. The guns are designed with loving detail which adds an extra layer of authenticity to this virtual warzone.
Pixel Gun Apocalypse 2 is an absolute must-play for fans of battle games and survival games alike. It's a blast apart mix that combines sharp shooting action with strategic gameplay elements in a beautifully rendered pixel environment. So pick up your virtual arms and dive once again into the frantic fray that Pixel Gun has perfected.
In conclusion, whether you're up for some good old fashioned zombie blasting or want to test your mettle against other players from around the globe, Pixel Gun Apocalypse 2 delivers an experience that's as intense as it is enjoyable. It takes all the best elements from gun games, pixel games, battle games, survival games, and sniper games to create a one-of-a-kind gaming experience you won't want to miss!
What are the best online games?