Pixel Gun Apocalypse 3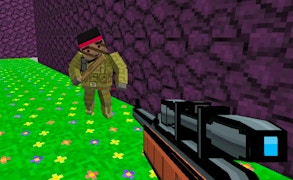 Pixel Gun Apocalypse 3
Prepare to dive into the exhilarating world of Pixel Gun Apocalypse 3, the latest in a line of outstanding pixel games. This game redefines the category of gun games, pushing the envelope with high-octane adrenaline and intense battle games action. Whether you side with the steadfast Germans or align with the audacious mercenaries, you are promised an experience akin to a rollercoaster ride of pixelated warfare.
The heart of Pixel Gun Apocalypse 3 lies within its robust arsenal. Boasting five distinct types of weapons, it offers weaponry that ranges from the pinpoint accuracy of a standard pistol to the devastating impact of a rocket launcher. The creative inclusion of a machete adds an additional layer to this survival game, enabling close quarter combat scenarios that will test your survival instincts like never before.
The gripping tension and challenge is further escalated with its engaging sniper mechanics, making it one of the most thrilling sniper games around. Here, your aptitude in stealth and precision is measured and rewarded in this intense battle arena. It requires not only mastery over your weapons but also tactical nous and cunning to outwit your opponents.
In conclusion, Pixel Gun Apocalypse 3 offers gamers an unrivaled blend of tactical warfare and high-speed action that few other shooters can claim. With its mixture of skill-based shooting and survival elements, it unequivocally cements itself as an exemplary title within gun games, pixel games, survival games, battle games, and sniper games alike.
What are the best online games?